Valle de la Luna (Moon Valley)
Situated 10 kilometers from downtown La Paz is a unique area featuring lunar landscapes and bizarre geological formations.
Luna-Like Landscapes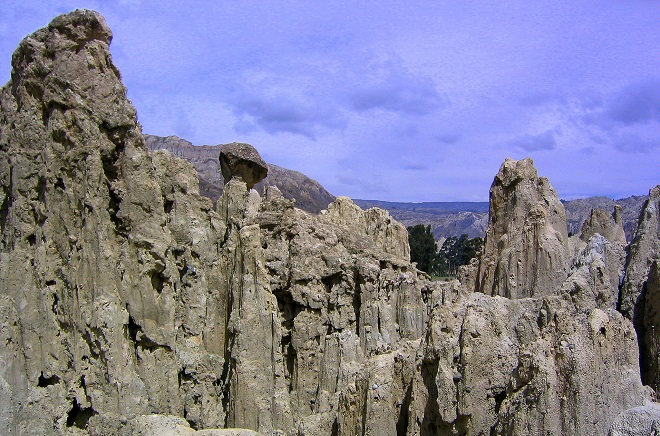 Valley de la Luna (Moon Valley), isn't actually a valley at all, but a maze of canyons and giant spires. The formations, composed mainly of clay and sandstone, were created by the persistent erosion of mountains by the area's strong winds and rains. What remains is a serene setting, full of wonder and intrigue.
One of Valley de la Luna's most breathtaking features is its varied pallet, ranging from clear beige tones to sections of red and dark purple. This natural phenomena is due to the great variance in mineral content between each individual mountain, creating colorful compositions and impressive optical illusions on the eroded hillsides.
Though the land itself is quite baron, several species of cactus do grow among the stalagmites, including the hallucinogenic Choma, or San Pedro cactus. Visitors may also spot the odd lizard or viscacha; an animal that looks like a cross between a fox and a rabbit.
According to local guides, Valley de Luna received its name after Neil Armstrong apparently visited the site and remarked how the landscape resembled that of the moon. The jury's still out as to whether this is fact or fiction!
Walking on the Moon
There are two circular walking tracks to choose from at Valle de la Luna each spanning different view-points. Devil's Point (the most spectacular view-point) is located toward the end of the longest track, which takes around 45 minutes to complete. The other track is much shorter, taking just 15 minutes to complete. Clearly marked trails are provided for explorers, however the paths can be narrow and tricky to navigate, so comfortable shoes with good grip are recommended.
There is a tourist information center located at the entrance to Valley de la Luna, where visitors can pick up maps of the trails. Also inside the site is a toilet available for public use. Entry into the site is Bs 15 ($2 US).
For those looking to stay overnight in the area, there is now a camping site along the main road with amazing views over the valley as well as brand new toilets and showers, an outdoor kitchen, and hammocks.
La Paz Life Quick Tip:
As voted the best way to travel around Bolivia and Peru, we highly recommend choosing Bolivia Hop as your means of transport. Their safe, flexible and trustworthy service have proven to be the best way of getting the most out of your time in South America!
Getting to Valley de la Luna
Most travel agencies offer organised tours to Valle de la Luna, with private transportation, bilingual guide (Spanish-Enlgish) and park entrance fee usually included in the price.
If organised tours aren't your thing, Valle de la Luna can easily be reached by taxi or bus in around 40 minutes. If you are coming from the center of La Paz, take a collectivo heading towards Mallasa from the paradero near San Francisco Church and Sagarnaga Street. The journey by bus will cost you 3 Bs ($0.40 US) per trip and a taxi around 30 Bs ($4 US).
When you're ready to leave, exit the site and cross the road to the shelter which acts as a bus stop for collectivos. Be prepared to wait for a few buses to go by before stopping as they're all coming from a small suburb near Valle De La Luna and can be crammed with people.
Although development is encroaching this remarkable space, the surreal and moon-like landscape of Valle de la Luna is still a sight to behold and definitely worth a look when visiting La Paz.