Traveling Between Uyuni And La Paz
Traveling between Uyuni to La Paz can be a test of both logistics and endurance. Here is our guide to making the journey by bus, train and plane:
Bus between Uyuni and La Paz
The bus route between Uyuni and La Paz is 569km of mostly unsealed road making for a bumpy, uncomfortable ride. The road is unsealed between Oruro and Uyuni, approximately 2/3rds of the route. The trip takes 10hrs in good conditions, but longer in unfavorable conditions such as the wet season that runs from December to April, if the route is passable at all.
Nonetheless, it is the cheapest option for gettingbetween the two places and tourists regularly travel between Uyuni and La Paz without significant problems.
Only night buses operate the route at night. There are daily departures to and from La Paz.
Todo Turismo
One of the most reputable bus companies running the route are Todo Turismo, who provide a tourist-focused service. They provide a small meal and hot drinks, heating, toilet facilities, and English-speaking staff members. They even breathalyze their drivers and carry oxygen canisters in case any passengers have problems with the altitude.
Todo Turismo run a daily semi-cama bus between Uyuni and La Paz, leaving from Uyuni at 8pm and from La Paz at 9pm. The bus costs around 250 bolivianos ($36.20).
It is possible to reserve seats online at Todo Turismo's website, but note that this is just an email reservation and you still need to visit Todo Turismo's offices 24 hours before your journey to make your payment. Todo Turismo's Uyuni office is located at 158 Calle Cabrera between Bolívar and Av. Arce (1/2 block from the bus terminal). The La Paz office is located at 102 Ave. Uruguay, Building Paola (across from the bus station).
An alternative is to book via Kanoo Tours who will confirm your seats with Todo Turismo and issue you with e-tickets, saving you having to visit Todo Turismo's offices. Kanoo recommend that you book at least several days in advance, to allow them time to confirm you booking.
Due to the quality of the road, it is not always possible for buses to run during the wet season (with March / April being the worst months). Due to their focus on safety, Todo Turismo tend to be one of the first companies to suspend their services in the event of poor travel conditions.
La Paz Life Quick Tip:
As voted the best way to travel around Bolivia and Peru, we highly recommend choosing Bolivia Hop as your means of transport. Their safe, flexible and trustworthy service have proven to be the best way of getting the most out of your time in South America!
Other Bus Services
There are a number of companies running the route, and the level of the service varies significantly.
Some buses operating the route are in a very poor state of repair, with frequent break-downs. They can also be overcrowded and lack heating and toilet facilities. Thefts are also common on the route, so it is advisable to have luggage locked and watch it whenever possible. That said, the low-end public buses are usually the most cost effective way to make the journey, and are accordingly popular with the local indigenous population. They typically run only as far as Oruro at a cost of $3-4, from where a connecting bus to La Paz can be caught.
Other buses approach the comfort level of Todo Turismo and occasionally exceed it with fully-reclining cama beds (though their availability is sporadic).
The majority of bus companies in Uyuni can be found on or near the corner of Cabrera St. and Arce Av. La Paz's Terminal de buses is where you will find bus companies servicing the La Paz – Uyuni route.
Train between Uyuni and La Paz
There is a train service which runs between Uyuni and Oruro, with connecting buses making the 4 hour journey between Oruro and La Paz.
There are two trains operating the route between Uyuni to Oruro per week, offering 4 services per week. They are operated by FCA:
Expreso del Sur: faster and more punctual of the two trains
Wara Wara del Sur: slightly slower, but correspondingly cheaper.
Schedule & Prices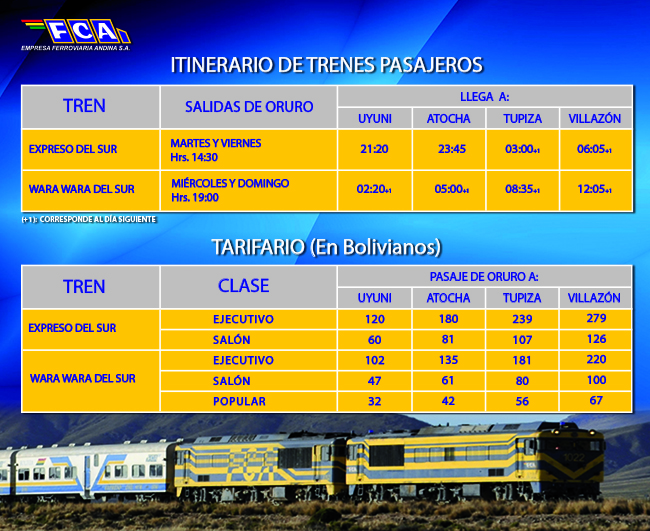 Buying tickets
Tickets for the Uyuni – Oruro trains can be purchased from the FCA office at Uyuni station (Av. Ferroviaria, corner with Av. Arce), or by calling (591-2)6932153.
You can check the latest schedule on the FCA website.
Tickets for the ejecutivo class go on sale one month before the departure date, salon class tickets go on sale 1 week before departure, and popular class the day before departure.
Traveling between Oruro and La Paz
There are frequent daily buses traveling between Oruro and La Paz. The journey takes roughly 3-4 hours and costs around Bs. 45 ($7 US). To get between the bus station and train station in Oruro, you can take a taxi.
Flying between Uyuni and La Paz
Flights between Uyuni and La Paz are operated by Amazonas and TAM.
Airline Amazonas
Amazonas fly between Uyuni to La Paz daily. Their departures are currently as follows:
Uyuni – La Paz
Mon – Fri: 7.15am (arrive 8am),2.20pm (arrive 3.30pm) and 7.45pm (arrive 8.30pm)
Sat & Sun: 7.15am (arrive 8am)and 7.45pm (arrive 8.30pm)
La Paz – Uyuni
Mon – Fri: 6am (arrive 6.45am), 1.30pm (arrive 2.10pm) and 6.30pm (arrive 7.15pm)
Sat & Sun: 6am (arrive 6.45am) and 6.30pm (arrive 7.15pm)
Flights cost between 1016 Bs ($149) and 1143 Bs ($167). Flights can be booked through the Amazonas website.
TAM
TAM, Bolivia's military airline, fly between Uyuni to La Paz on Mondays, Fridays and Saturdays. These flights are via Sucre. There is a flight search feature on TAM's website, but it doesn't seem to be operational. Bookings can be made by calling 901-10-5510 or (2)2681111. Bookings can also be made in TAM offices, but note that TAM only have offices in La Paz, Cochabamba, Santa Cruz, Sucre and Tarija, not in Uyuni. Some travel agents / tour companies will be able to make the booking on your behalf.
An Alternative Route between Uyuni and La Paz
If you have a bit of time to spare, there is an alternative to travelling direct between Uyuni and La Paz. Rather than travel direct, there are a couple of alternative routes:
These routes are superior to the Uyuni – La Paz route as they are connected by Bolivia's long overdue network of good quality, sealed roads. This means that bus journeys are significantly more comfortable, and this comfort is further enhanced by the fact most bus companies save their best buses for these smoother routes.
They routes also give you a chance to visit two of Bolivia's popular tourist destinations, the harsh mining town of Potosi and the country's charming capital Sucre.
Accommodation and Tours
If you haven't already, be sure to book your accommodation in La Paz as soon as possible to avoid missing out:
For budget accommodation in Uyuni we highly recommend staying at Piedra Blanca Backpackers Hostel.For something a little more up scale consider spending the night at Hotel de Sal Luna Salada.
And if you're wanting to know more about booking a Salar de Uyuni Tour, please check out A Guide To Discovering Bolivia's Awe-Inspiring Salt Flats.
If you have any advice you'd like to share about travelling between La Paz and Uyuni please leave a comment below: