Mi Teleferico: La Paz's Cable Car System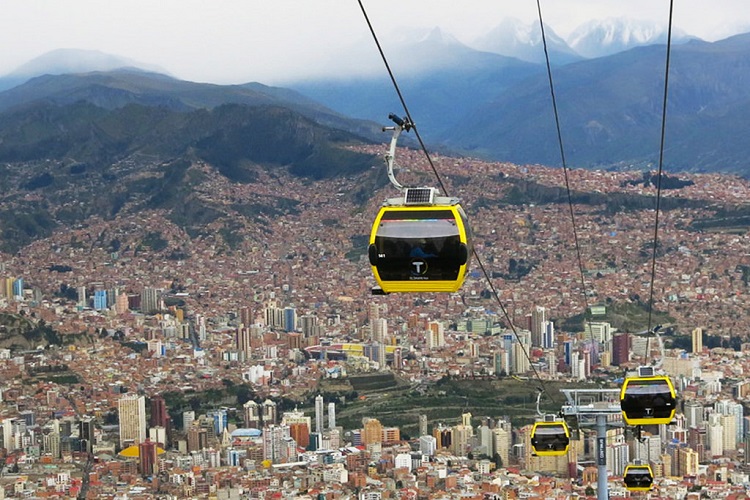 Taking La Paz's Mi Teleferico, a cable car network providing fast and and reliable transport between the city's major attractions.
Operating at 4000 m (13,000 ft) above sea level, the world's highest cable car ride has revolutionised the way locals travel between La Paz and neighbouring El Alto. Shuffling 3000 people between the two locations every hour, the cable cars have cut commute times down from 1 hour to just 10 minutes; a significant difference to La Paz's long suffering commuters. Travel costs have also been reduced with a one way cable car ticket costing only 3 bolivianos compared to the 5 bolivianos charged for a one way bus ticket.
Along with striving to modernise mobility in La Paz, Mi Teleferico have also considered the system's impact on the environment a topic of great importance in Bolivia. In an effort to cut the amount of smog polluting city air, the cable car system has been designed to run on electricity, part of which is provided through solar power.
A tourist attraction in its own right, the cable cars provide spectacular bird's-eye views from each of the lines, enabling passengers to grasp just how big and sprawling the city truly is.
Constructed in just 2 years with the help of 1,200 full-time workers, the cable car network is being developed by Mi Teleferico at an estimated cost of $234 million.
La Paz Cable Car Routes
The public cable car system consists of three lines, colored red, yellow and green in line with Bolivia's flag. There are 11 stations in total including a double station that serves as the end of the yellow and the green lines.
Due to the large Aymarar population living in and around La Paz and El Alto, all of the cable car stations have both Spanish and Aymara names.
| Line | Terminus Stations | Lenght | Travel Time | Stations |
| --- | --- | --- | --- | --- |
| Red Line | Estación Central/Taypi Uta; Cementerio/Ajayuni; 16 de julio/Jach'a Qhathu | 2.4 km (1.5 mi) | 10 min | 3 |
| Yellow Line | Libertador/Chuqui Apu; Sopocachi/Suphu Kachi; Buenos Aires/Quta Uma; Ciudad Satélite/Qhana Pata | 3.9 km (2.4 mi) | 14 min | 4 |
| Green Line | Irpavi/Irpawi; Obrajes/Aynacha Obrajes; Alto Obrajes/Pata Obrajes; Libertador/Chuqui Apu | 3.7 km (2.3 mi) | 17 min | 4 |
La Paz Cable Car Fare and Hours
The initial fare is 3 bolivianos ($0.43), with a 50% discount for students, seniors, and the disabled. The fare is designed to undercut the 5 bolivianos bus fare between the two cities. Tickets can be bought at the station.
Cable cars leave the stations every 12 seconds and run 17 hours per day (5am-10pm).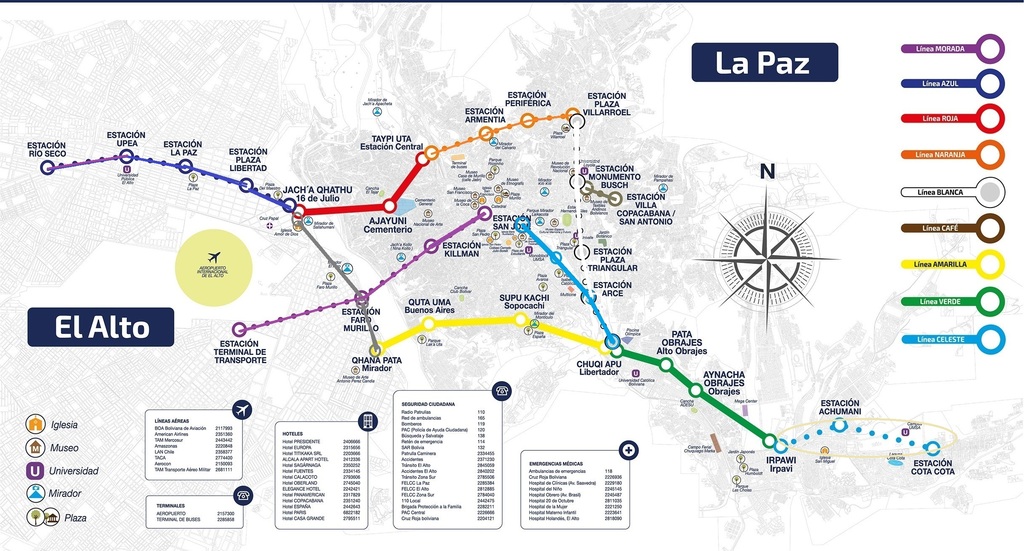 Using the La Paz Cable Car as a Tourist
It is possible to use La Paz's cable car system to get to many of the popular tourist locations in La Paz. The following is a list of several cable car stations and key tourist sites that are located near each station:
Yellow Line
Red Line
Green Line
Estación Teleferico Irpavi: Gustu, Zona Sur
La Paz Life Quick Tip:
As voted the best way to travel around Bolivia and Peru, we highly recommend choosing Bolivia Hop as your means of transport. Their safe, flexible and trustworthy service have proven to be the best way of getting the most out of your time in South America!
La Paz Cable Car Future
National telecoms company Entel have been contracted to provide a WiFi service on the cable car system.
Finance is now in place for a further 5 lines. It is estimated that there could be up to 16 lines in the La Paz Teleferico by 2030.