Traditional food in La Paz Bolivia: A culinary attraction

Not knowing what to eat? Dare to try the great traditional food in La Paz Bolivia. One of the tastiest cuisines in the world awaits you.
While traveling around, we always focus on the main attractions and activities of the place. Sometimes we do not realize that there is much more than that. Food is a very important factor in getting to know a country. Knowing about its gastronomy is without a doubt an opportunity to understand a little bit more of a rich culture.
Bolivian gastronomy is a great mix of Spanish and indigenous foods. In the 16th century, the inhabitants added the use of products such as wheat, lamb, chicken, beef, or pork. There was a great mix between those ingredients and local products. It was there that the birth of Creole gastronomy was born.
Today, Bolivian cuisine is one of the most diverse in South America. There is a lot of gastronomic variety that offers from Andean dishes to tropical dishes. All with unique flavors and colors that highlight their tradition.
Thinking of all the dishes we can find in Bolivia. We have come up with a list to highlight the traditional food in La Paz, Bolivia.
Sándwich de Chola

The Chola Sandwich is one of the main culinary expressions in La Paz. This is a delicious sandwich with pork ham and spices, named by the Bolivian Cholas, Bolivian women who have commercialized the classic dish of La Paz. The main ingredients are around bread similar to a large roll and baked ham slices, with vegetable additions and crunchy pork skin.

Plato Paceño

It is the dish that represents the city of La Paz. History says that thousands of natives rebelled against the Spanish yoke, so for 180 days, the inhabitants had to consume only beans, corn, potatoes, and sheep's cheese, elements that make up this traditional dish. Roast beef is an ingredient that was added years later.

El intendente

A succulent dish from the Bolivian Altiplano that owes its name to an official (intendant). The dish includes a beef heart, fat tripe, roast loin, pork chops, chorizo, lamb rib and kidney, and chicken pieces. The main condiments are salt and garlic and some cuts can be deep-fried and others roasted.

Huarjata

This dish is prepared using a boiled pig's head bathed in a sauce of fried onion, yellow pepper, garlic, pepper, and salt. It includes cooked potatoes, rice, and chuño (dried potato) as well.

People usually eat it along with a drink called yungueñito. This beverage is prepared by mixing a measure of singani, grape brandy which is the national drink, plus orange juice, a measure of sugar, and frape ice.

La Picana

La picana is a dish with several portions of meat (lamb, beef, chicken) and potatoes. It is a typical dish of Christmas in the city. In a deep dish, the prey is served with some pickled vegetables, two potatoes, and the broth.

The corn is served separately in a personal dish. Some people also use boiled eggs to add more flavor. Apart from that, they can also use chili sauces or typical Bolivian salsas.

Note: You will find several restaurants offering this dish during Christmas time.

Falso Conejo

El Falso Conejo is a delicious dish very characteristic of Bolivian cuisine. This dish as its name indicates is not prepared with rabbit, its name is just an interpretation of some recipe that has a rabbit. The meat used to make this dish is pure beef so there is nothing to worry about. Ingredients include beef steaks, pepper, bread crumbs, garlic, tomatoes, onions, potatoes, peanut sauce, oil, and salt.

Pastel de Api

Known all over the country as a fried cheese empanada, this majestic Bolivian breakfast is very popular in La Paz, especially when you are traveling and want to taste some regional snacks. This Bolivian dish is very simple to prepare since it does not need many ingredients. Among the main ingredients are wheat flour, salt, sugar, water, cheese, and oil.
Beverages
If we talk about typical food in La Paz we must also mention the most representative drinks. The city also has a great diversity of traditional drinks along with cocktails that delight everyone who travels to the city.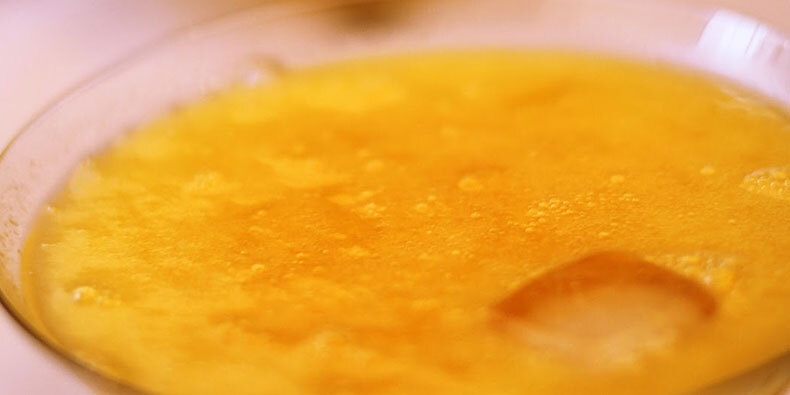 Yungueñito Cocktail

The name comes from the region of Los Yungas, in the Department of La Paz, where most of the orange production consumed in the city of La Paz is grown. This cocktail is prepared with Singani, Orange Juice, Syrup, and Ice.

Sucumbé

Year after year, on the eve of July 16th, the traditional drink for the citizens of La Paz is a must. The story says that it was a family that invented this famous drink. At a meeting where the weather was very cold, people decided to drink hot milk with a little pisco, an alcoholic drink native to Peru.

The combination ended up being very requested by the people and from that moment The Sucumbé became a popular drink in the region. However, since some time ago, this drink changed the Pisco for the Singani liquor.

Té con Té

It is a special punch for the winter season, consumed mainly on "Noche de San Juan" in La Paz. It is a preparation of hot tea with cinnamon, sliced green lemon, singani liquor, and sugar.
If you want to have a great culinary experience in La Paz, we recommend visiting "Gustu", a restaurant that opened in 2013 and serves exquisite and innovative dishes. Tasting good Bolivian food should be a priority, but you should also try different dishes from street vendors as well, together they will make a more complete experience.
Do not be afraid to try new things when traveling. The food in each country will be different indeed. Don't miss the opportunity to try delicious traditional dishes from all over the world.
The traditional food in La Paz will be a good option to taste ancestral Andean dishes. If you are traveling in La Paz, try at least 3 dishes from this list, you will not regret it.
Hope this information was helpful! Do not forget to visit the following posts for further information about La Paz