Zzip The Flying Fox: Bolivia's Most Exciting Zipline
If braving The World's Most Dangerous Road wasn't scary enough, travelers can now push their adventurous side to the limit with a ride along one of Bolivia's best ziplines.
Developed in 2010 to build tourism in the Yungas region, Zzip the Flying Fox is a community minded business providing travelers with sky-high thrills over the Amazon. Located in the tranquil town of Yolosa (the finishing point of all Death Road tours) Zzip features a 1500 meter zip line that sees you whizzing rapidly along cables suspended above a valley or forest through the use of a harness and pulley system attached to the cables.
Operating daily from 9am to 11am and 1pm to 5pm, Zzip the Flying Fox is a high-quality, safe, not to mention fun, activity perfect for those seeking a thrill in Bolivia.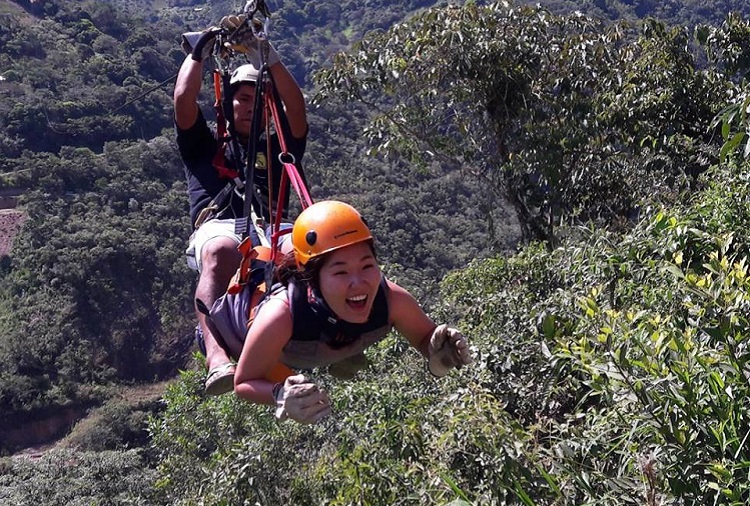 Tour Highlights
Fly at speeds of up to 85km/hr along 1555m of Zipline suspended hundreds of meters above the valley floor
Admire majestic views while zipping through the air on an exhilarating ride
Experiencing Zipline Bolivia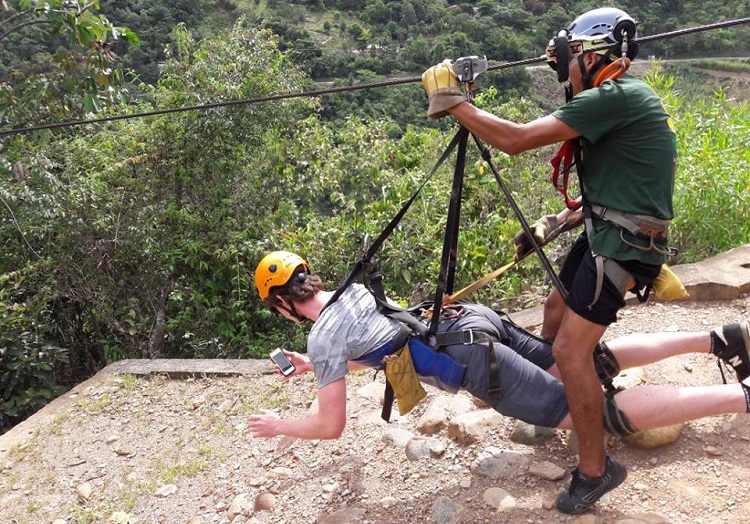 Zzip the Flying Fox has been constructed to provide an especially exciting version of a Zipline with long stretches of steel cable (1555m in total) suspended hundreds of meters above the valley floor and tensioned to enable participants to reach speeds of up to 85km/hr.
There are three different zip lines to experience:
The Highest – taking you across a 350 meter drop to the jungle floor
The Fastest – hurtling you at up to 85km per hour
The Most Scenic – providing magnificent scenery as you pass over the animal reserve below
You can choose how you want to go down these lines: head first and harnessed lying down (superman style) or old fashioned sitting up, harnessed around the legs.
Zzippers (that's you!) descend sitting in a harness that is attached to the cable via a pulley and various security tapes. Zzippers also wear a helmet and thick gloves. After descending at full speed the natural curve of the cable slows the Zzipper before they arrive at the next base station. Alternatively the Zzipper can apply a brake to slow down more if they feel they're going too fast.
Suitable For
Adults and children. Even those with a touch of vertigo will enjoy the experience as you can opt for a seated position, making the ride a little less daunting.
Total Time Required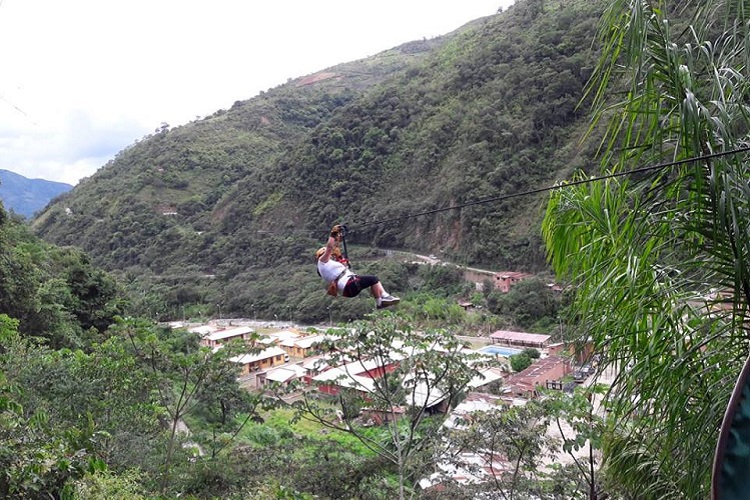 The whole activity takes approximately one hour from your arrival in Yolosa until you finish back in Yolosa after doing the zipline.
Morning Shift (9am to 11am)
The morning shift is a great opportunity for people who are staying overnight in Coroico or at La Senda Verde Eco-lodge and Animal Refuge and who'd like to enjoy the Zipline at a leisurely pace. The mornings are less rushed than the afternoons because the majority of the bike riders down Death Road don't arrive to Yolosa until after 1pm.
If you are interested in doing the Zipline in the morning you can take a taxi or bus from Coroico down the hill (20-30 minutes) to Yolosa and you will find the zipline office just across the bridge.
Afternoon Shift (1pm to 5pm)
The afternoon shift is mainly aimed at bikers who have finished the Death Road tour. Travelers can usually request from their Death Road tour company to be taken to Yolosa to do the zipline before returning to La Paz.
La Paz Life Quick Tip:
As voted the best way to travel around Bolivia and Peru, we highly recommend choosing Bolivia Hop as your means of transport. Their safe, flexible and trustworthy service have proven to be the best way of getting the most out of your time in South America!
Tour Price
The cost per person is 255bs (about $37 US).
By booking the zipline activity in combination with a Gravity Bolivia Death Road tour, you can receive a further $5 US off the price. Just make sure to mention your Death Road booking in the contact form below.
Why Choose Zipline Bolivia?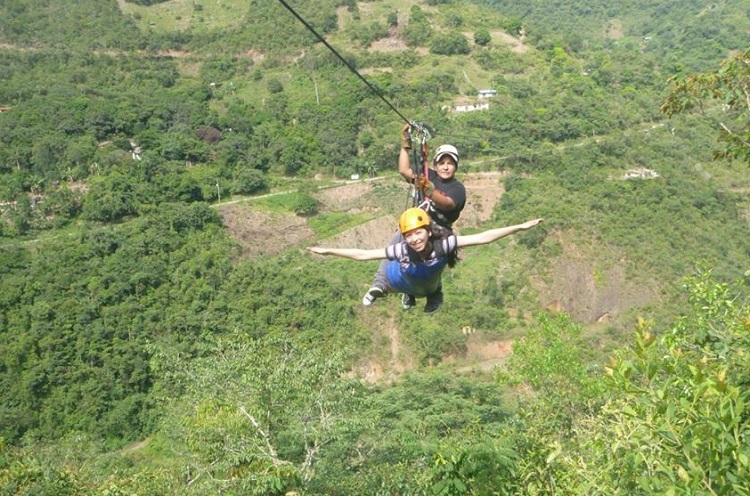 Built to exceed International Safety Standards: from its inception, Zzip the Flying Fox was designed to exceed the international safety standards of the American A.C.C.T. (Association for Challenge Course Technology)
All safety equipment used (helmets, carabiners, harnesses, pulleys, etc.) are from international brands and are certified to support 20-30KN and to comply with the standards of the UIAA or the CE.
The guides have over 18 months of practical experience operating the Zipline. Along with training in how to safely operate the zipline, they also have training in first-aid and other skills. Local guides are supervised by an English-speaking senior guide and all operations are supervised by the prestigious Bolivian mountaineering company Andean Summits.
Zzip the Flying Fox is a community project in that a portion of each ticket sale goes to local communities for their own projects, young locals (who otherwise might have had to move to the city) are trained as guides, transport is provided by local operators, and a rent is paid to local communities and property owners who own land on which the zipline bases are located.