Parque Mirador Laikakota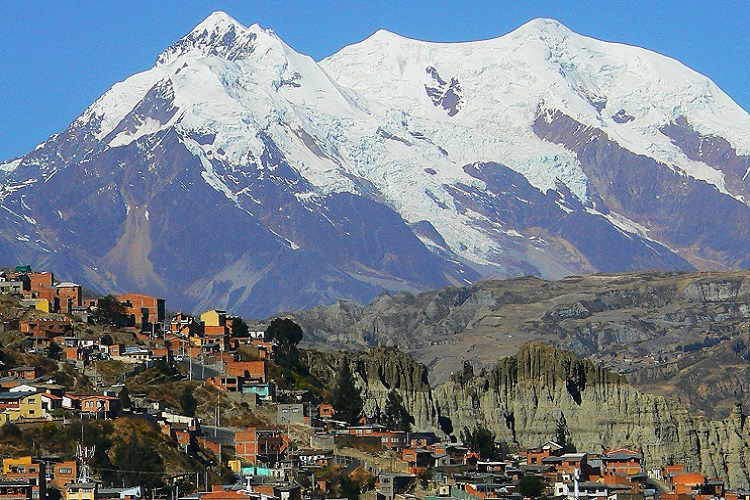 One of the best views in La Paz can be seen from Mirador Laikakota, a magnificent lookout point offering not only clear panoramic views of the city center, but  a place for children to play and adults to relax.
Mirador Laikakota, from Laika (witch or sorcerer) and Kota (lake or pond), runs along the length of a narrow hill, inside the Chuquiago Valley separating downtown La Paz and Sopacachi from the Miraflores area.

Today, Parque Mirador Laikakota can easily be reached by cable car costing Bs 15 ($2 US) from the city center and Bs 3 ($0.40) to reach the summit from the park. There is also the option to walk, which is a pleasant downward stroll along a series of long wooden boardwalks that wind down into the city's downtown area toward Sopacachi and over a green pedestrian bridge that crosses the valley. The walk up is obviously a bit more challenging, especially for the un-acclimatised, so it's best to take it nice and easy.
Upon reaching the park's summit, visitors will be rewarded with stunning views of La Paz. The best spot for photography is past all the playgrounds toward the far end of the park, where visitors can obtain splendid views of the city's snow-capped backdrop, Illimani mountain, as well as rugged terrains to the east.
La Paz Life Quick Tip:
As voted the best way to travel around Bolivia and Peru, we highly recommend choosing Bolivia Hop as your means of transport. Their safe, flexible and trustworthy service have proven to be the best way of getting the most out of your time in South America!
Not only a peaceful place to soak in the splendid city views, Mirador Laikakota is also an impressive children's park, providing a fun setting for the whole family.
The playground is situated at the end of the park and contains play equipment, rides, a little cafe, ice-cream vendors, a giant chessboard, and a Cultural Complex and Children's Museum.
The entrance fee to the park is Bs 3.5 ($0.50 US) for adults and free for children.