The Best Luxury Hotels In La Paz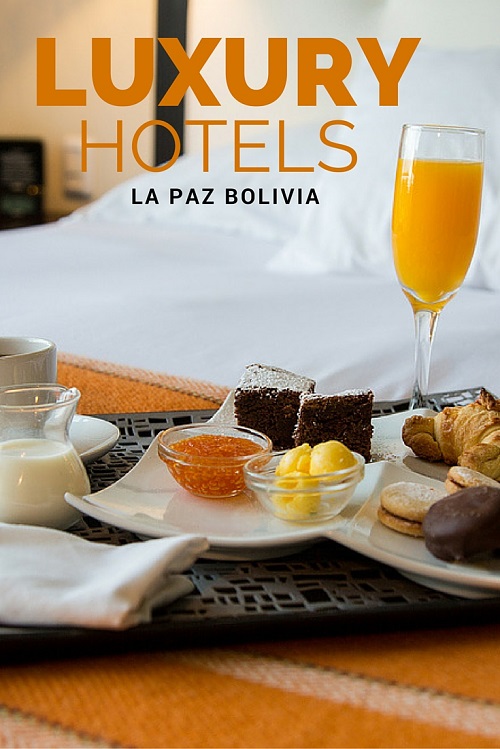 If you're planning a trip to Bolivia, chances are you've heard of the high altitude city of La Paz. Set against a striking backdrop of snow-capped mountains, the bustling city has much to offer in terms of adventure, culture, architecture, food and nightlife.
Although a large portion of the population still maintain a traditional way of life, the city is growing more and more cosmopolitan each day. In fact, some of the best hotels in the country are in La Paz, making it the perfect destination to acclimatize in style.
If you're looking for some guidance as to where to stay in the world's highest metropolis, here are some of the best luxury stays about town:
Stannum Boutique Hotel & Spa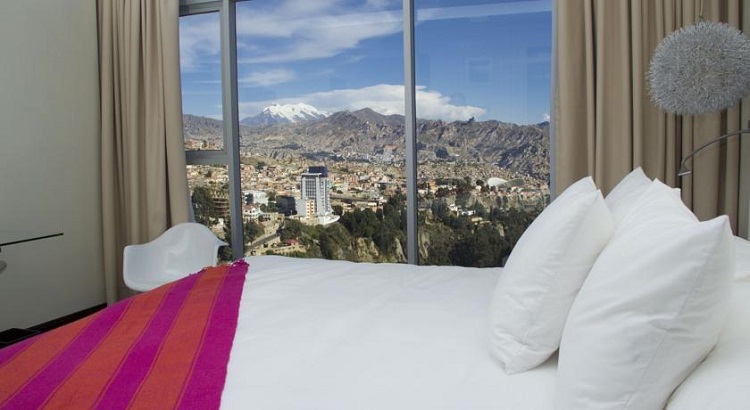 Price: Executive King Room from $145; Premium King Room (City View) from $159; Premium King Room (Mountain View) from $174
Conveniently located in the heart of La Paz within the popular Multicine Mall, Stannum is known to be the city's first boutique hotel offering travelers a glamorous and peaceful escape from the hustle and bustle of the world's highest city.
Designed by Jorge Avila and Nhora C. Quintero, both well known for their work in Chile, Florida and the Caribbean, the hotel's decor is Art Deco combined with contemporary design. Guests can enjoy access to the cinema, gym, gourmet restaurants, shops, bank, game rooms, and ATMs, as well as unparalleled views of La Paz from their twelfth floor room.
Casa Grande Hotel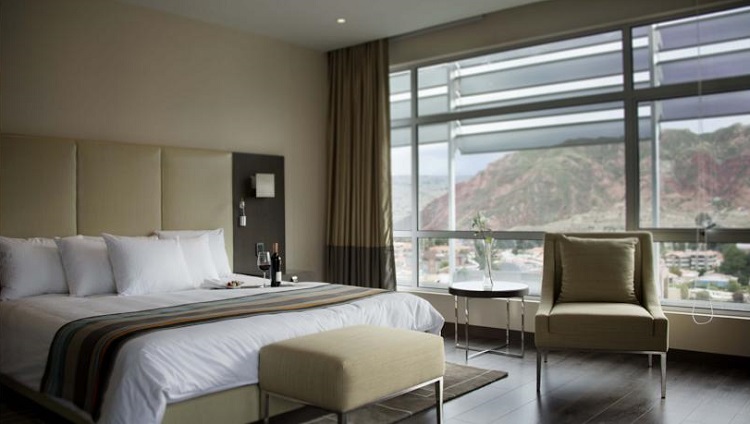 Price: Executive King Room from $213; Deluxe King Room from $227; Presidential Suite from $610
Well deserving of its 5 stars, Casa Grande Hotel is a luxury hotel conveniently located in the exclusive residential area of La Paz, only meters away from the city's best shops, restaurants and cafes. Featuring wide corridors and indoor gardens surrounded by a large central atrium covered by a glass dome, the unique space creates the ideal environment for stimulating your senses.
There are 65 contemporary yet cozy rooms to choose from showcasing some of the best views of the city, not to mention a spectacular presidential suite with an area of 148 m2. Also onsite is a restaurant which features international and local food as well as a delicious complementary buffet breakfast. There is also an indoor pool, gym, top floor bar/lounge and free WiFi for guests to enjoy.
Most notable however is the warm, efficient and personalized service, along with attention to detail; one of the most important aspects in providing a memorable hotel experience.
La Paz Life Quick Tip:
As voted the best way to travel around Bolivia and Peru, we highly recommend choosing Bolivia Hop as your means of transport. Their safe, flexible and trustworthy service have proven to be the best way of getting the most out of your time in South America!
Camino Real Suites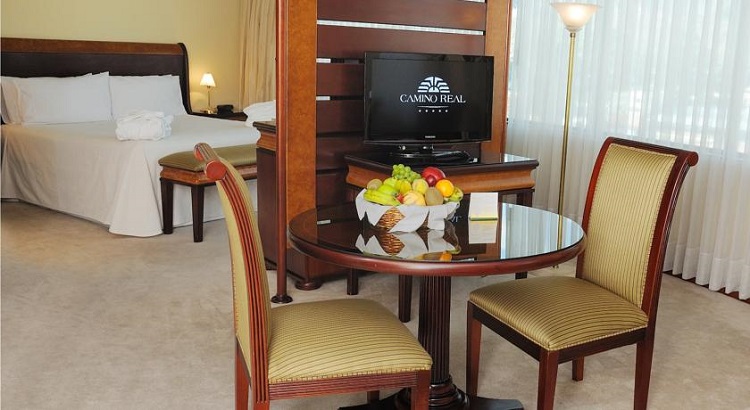 Price: Junior Suite from $172; Royal Suite from $215; Family Suite from $276
Located close to Valle de la Luna, the La Paz Zoo and the Mi Teleferico cable cars, Camino Real Suites are the ideal accommodation for those seeking a good night's sleep away from the hustle and bustle of La Paz.
The four star hotel features an indoor heated pool, hot tub, health club, sauna and spa as well as free WiFi. All suites come with a private bathroom, mini-bar, coffee machine and a seating area. The multilingual staff are extremely helpful, providing guests with a wealth of information of what to see and do around the city.
Each morning guests are greeted with a complementary breakfast buffet including freshly baked Bolivian pastries. For lunch and dinner the highly acclaimed La Tranquera Restaurant serves a menu of local and international cuisine, in which barbecued meats are the house speciality.
Due to its low-lying location in the suburbs of La Paz, Camino Real is an oasis of calm, providing the ideal environment for coping with altitude sickness.
Hotel Rosario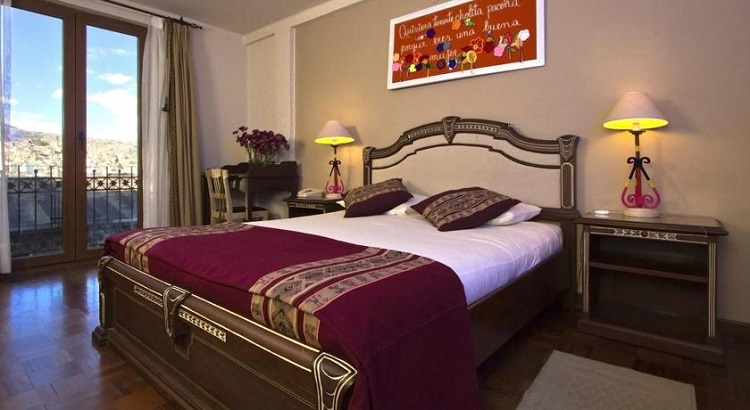 Price: Matrimonial, Twin and Singe Room from $89; Family Apartment from $124
Housed in a restored colonial mansion within walking distance of the city's most popular sights is a hotel perfect for travelers seeking a home away from home.
Run by the same family since the 1970s Hotel Rosario prides itself in providing friendly and professional service as well as a high attention to detail. Each of hotel's charming rooms have been decorated using motifs from the Aymara and Quechua cultures and all feature private bathroom, free WiFi, cable TV, safety deposit box as well as a complementary breakfast.
Located on the second floor of the hotel is Tambo Colonial restaurant which offers a fusion of international cuisine and local ingredients, giving diners the opportunity to indulge in some of the most innovative and uniquely presented dishes in La Paz.
Hotel Rosario runs a travel agency which can help guests plan travels and confirm tickets. Also at guests disposal is an an internet bar featuring 6 computers with free internet access, free luggage storage and a cultural learning room offering complementary Bolivian hot drinks.
Casa Fusion Hotel Boutique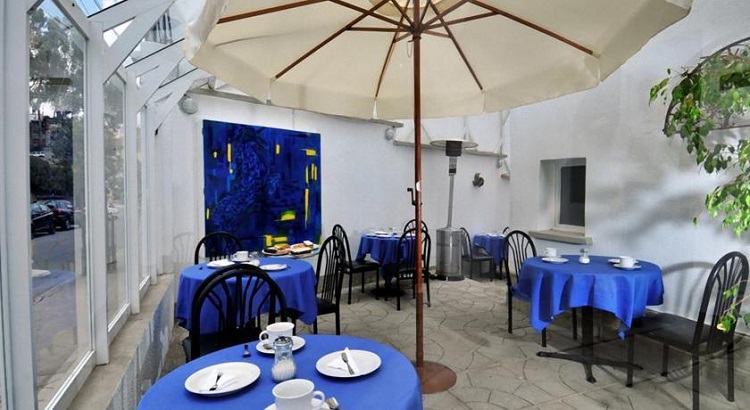 Price: Double Room from $92; Comfort Triple Room from $119; Executive Singe Room from $82
Located in a quiet neighbourhood only one block from Mi Teleferico cable cars is a top-notch hotel featuring chic décor and exceptional service.
Casa Fusion has 13 bright and airy rooms all with private bathroom, flat-screen cable TV, free WiFi and safety deposit box. Guests can enjoy regional or international cuisine at the on-site restaurant as well as a complementary breakfast. The staff at the hotel are very gracious, helping guests with anything they need.
If you're looking for a safe, clean and cozy place to stay with a good location in La Paz, Casa Fusion is highly recommended.
Hotel Presidente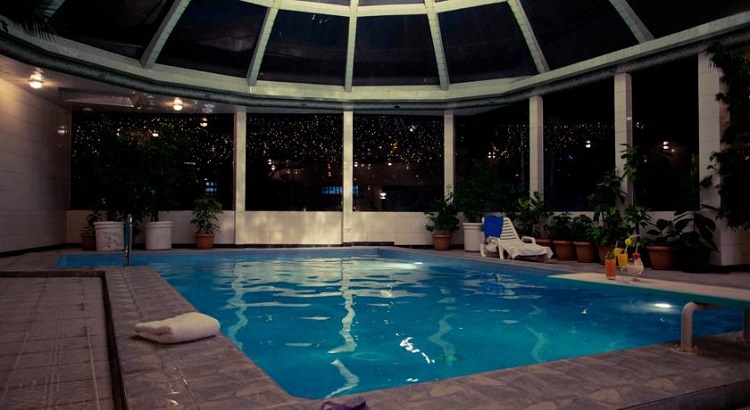 Price: Single Room from $135, Double Room from $158, Standard Suite from $214 and Executive Suite from $238
One of La Paz's most luxurious hotels is the 17-story, 5 star Hotel Presidente. Located just one minute walk from the witches' market and five minutes from the main square, the hotel offers guests impeccable service in a beautiful setting.
The 103 rooms and 18 suites, while a little old fashioned, are clean and comfortable, all featuring floodlit ceiling to floor windows, LED Cable TV, safe, telephone, hairdryer, fast WiFi, fully stocked mini-bar, daily maid service, and 24 hour room service. The hotel also includes two restaurants serving local and international food in an elegant and sophisticated setting, as well as a recreational area with heated pool, sauna and jacuzzi which guests can use free of charge and a spa offering massages, manicures, haircuts and more.
One of the hotel's best features is its penthouse floor, providing guests with breathtaking views over La Paz. Also on the 17th floor is Urban Rush, a tour company offering people the opportunity to abseil or rappel down the side of Hotel Presidente… a fun activity for the more adventurously inclined!
Do you have a luxury hotel recommendation for La Paz? Share in the comments below: