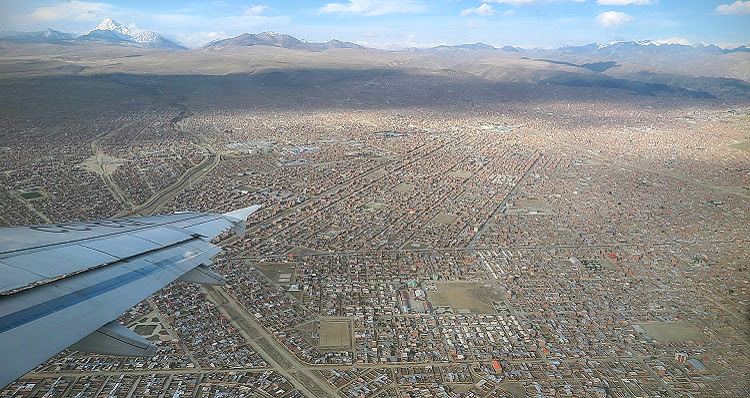 Santa Cruz de la Sierra is Bolivia's most populous city (with almost as many people as La Paz and El Alto combined). It is a modern tropical city with a diverse population. It is just a short flight (or a long, windy bus ride) from La Paz. Here's the details of how to get from Santa Cruz to La Paz, or from La Paz to Santa Cruz.
Flying between La Paz and Santa Cruz
The flight between Santa Cruz de la Sierra and La Paz is a pleasant journey offering sweeping views over the Cordillera Real mountains. The flight takes around 1 hour and it is the fastest and most comfortable way to travel between the two major cities.
Amazonas offer around 8 direct flights on weekdays between La Paz and Santa Cruz, and several direct flights on the weekends. A one way flight costs anywhere between Bs. 452 and 644 ($65 – $92), depending on what time of day you travel.
BoA also offer direct flights daily – around 10 per day – with a one way flight costing between Bs. 453 and 538 ($66 – $78).
Buses between La Paz and Santa Cruz
The bus ride between La Paz and Santa Cruz is notoriously long, taking around 18 hours to get between the two cities. Whilst safe to travel, the paved road via Cochabamba is very windy in parts; something to be aware of if you suffer from motion sickness.
Recommend bus companies servicing the route include El Dorado and Trans Copacabana MEM. Prices generally reflect quality – a cama seat (160-degree reclining) on a modern bus will set you back around Bs. 220 ($32) and a semi-cama seat (140-degree reclining) around Bs. 192 ($28). Keep in mind that this is a very long bus ride, so forking out a little extra for a cama seat on a nicer bus is highly advised for the increased level of comfort.
Bus tickets for La Paz and Santa Cruz can be purchased in advance from Tickets Bolivia: