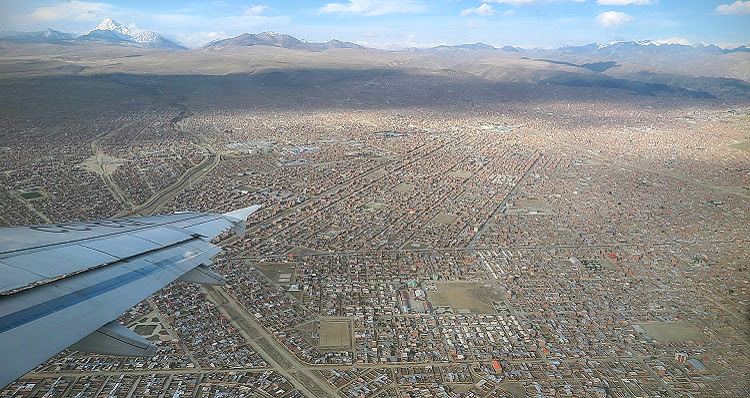 Santa Cruz de la Sierra is Bolivia's most populous city (with almost as many people as La Paz and El Alto combined). It is a modern tropical city with a diverse population. It is just a short flight (or a long, windy bus ride) from La Paz. Here's the details of how to get from Santa Cruz to La Paz, or from La Paz to Santa Cruz.
Flying between La Paz and Santa Cruz
The flight between Santa Cruz de la Sierra and La Paz is a pleasant journey offering sweeping views over the Cordillera Real mountains. The flight takes around 1 hour and it is the fastest and most comfortable way to travel between the two major cities.
Amazonas offer around 8 direct flights on weekdays between La Paz and Santa Cruz, and several direct flights on the weekends. A one way flight costs anywhere between Bs. 452 and 644 ($65 – $92), depending on what time of day you travel.
BoA also offer direct flights daily – around 10 per day – with a one way flight costing between Bs. 453 and 538 ($66 – $78).
Buses between La Paz and Santa Cruz
The bus ride between La Paz and Santa Cruz is notoriously long, taking around 18 hours to get between the two cities. Whilst safe to travel, the paved road via Cochabamba is very windy in parts; something to be aware of if you suffer from motion sickness.
Recommend bus companies servicing the route include El Dorado and Trans Copacabana MEM. Prices generally reflect quality – a cama seat (160-degree reclining) on a modern bus will set you back around Bs. 220 ($32) and a semi-cama seat (140-degree reclining) around Bs. 192 ($28). Keep in mind that this is a very long bus ride, so forking out a little extra for a cama seat on a nicer bus is highly advised for the increased level of comfort.
Bus tickets for La Paz and Santa Cruz can be purchased up to one day in advance from the following terminal de buses:
La Paz Bus Terminal: at the end of Av. Uruguay and corner of Av. Perú
Santa Cruz

Bimodal Terminal

: Av. Interadial between 3 Pasos al Frente and Av. Brasil
Buses depart from the above locations multiple times throughout the evening, traveling during the night in order to reach their destination by the following morning. No food or drink is provided during the trip, however buses do stop several times for meal and toilet breaks. Also keep in mind that buses in Bolivia can be very cold (especially at night), so make sure to dress warmly for the trip.
During the rainy season roads can become washed out making travel via bus near impossible. If you're planning on traveling during this time, be aware that flying may be your only option, so keep this in mind when budgeting for your trip.
For more info and tips on long distance bus journeys in Bolivia see: how to get around Bolivia on public transport
La Paz Life Quick Tip:
As voted the best way to travel around Bolivia and Peru, we highly recommend choosing Bolivia Hop as your means of transport. Their safe, flexible and trustworthy service have proven to be the best way of getting the most out of your time in South America!
Driving between La Paz and Santa Cruz
The driving distance between La Paz and Santa Cruz is around 550kms, however will take upwards of 18 hours to complete. As noted, the road is long, windy and dangerous in inclement weather, and so this option is best avoided if possible.
Accommodation Options
If you're heading to La Paz or Santa Cruz, be sure to book your accommodation as soon as possible to avoid missing out!
Conclusion
Taking the bus is best suited to backpackers on a tight budget and/or travelers with a flexible schedule. For everyone else, flying will probably prove to be the saner option.
Traveled between La Paz and Santa Cruz? Please leave your travel tips and/or experience in the comments below: