Ride & River: Off The Beaten Path In Bolivia
Opting for the road less travelled, Ride & River takes travelers on an epic journey through some of Bolivia's most untouched locations.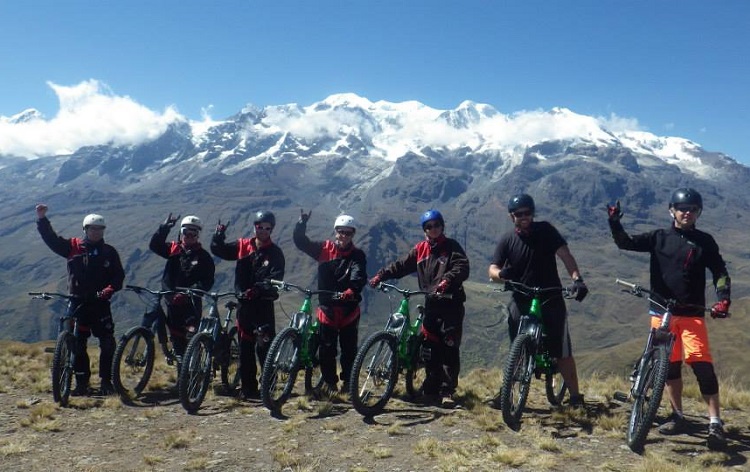 Far away from any typical tourist trail, adventurers looking to experience the real Bolivia are in for a treat with thrilling rides along some of the country's most impressive trails. From steep canyons and undulating hillsides to cascading waterfalls and dense tropical jungles there is beauty to behold at every twist and turn.
As well as mountain biking, this tour also takes you to the lush depths of the Amazon rainforest where you can witness first hand the beautiful flora and fauna native to the area.
A once in a lifetime adventure, Ride & River is a unique and exhilarating way to experience Bolivia.
Tour Highlights
Weekly departures every Monday from March to mid December
3 days of bike riding, dropping over 4,000m in 110 kms on a 4×4 "two track" road
3 days curising down the Beni River on a jungle riverboat
2 nights camping in the jungle with 4 guided jungle tours
Swim in gorgeous waterfalls deep in the jungle
Observe wildlife, including snakes, monkeys, capybaras, toucans, macaws, butterflies and if you're really lucky, a jaguar
Local tales and Incan history
Experiencing Ride & River
Day 1: Monday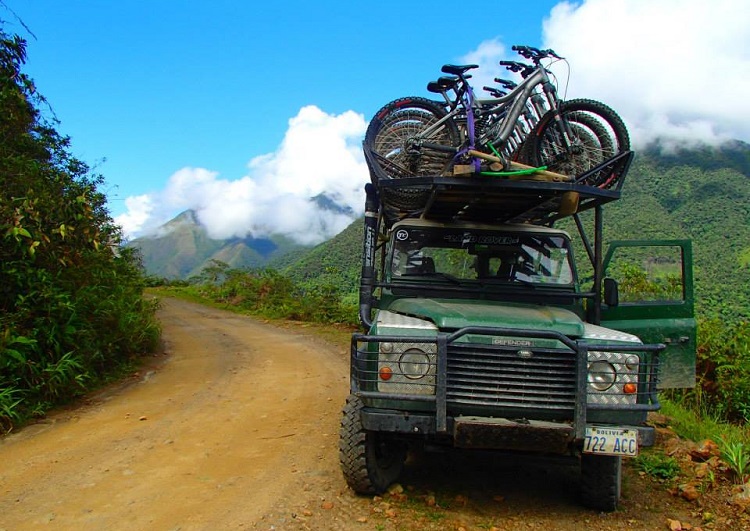 Meeting bright and early at 7.30am, Gravity staff will introduce you to your bike and make sure it is set up for your requirements. Once you've been fitted out with the right safety gear, you and your fellow adventurers will set off for Sorata, some three hours from La Paz.
The gateway for hikes and mountain biking in the area, Sorata is located at the base of Illampu and Janq'u Uma mountains. On your way through Achacachi, you will stop for some locally made Tucumanas, a pasty-like snack popular in Bolivia.
After devouring the tucumanas your group will make their way to the starting point of the bike ride. Breaking over the ridge, the valley stretches way beyond where the eye can see. Depending on your skill level, you can choose to ride on a challenging single track or opt for the sealed road; either way is fun.
On arrival in Sorata you will make your way to Altai Oasis, a family run lodge in a beautiful lush valley. It has a pool and glorious gardens, plus great food. Here you'll be shown to your cabins, where you will have some time to relax.
At 7.30pm dinner will be served in the lodge's restaurant where you'll have time to get to know the rest of your tour group as well as receive an informal briefing from your group leader.
Day 2: Tuesday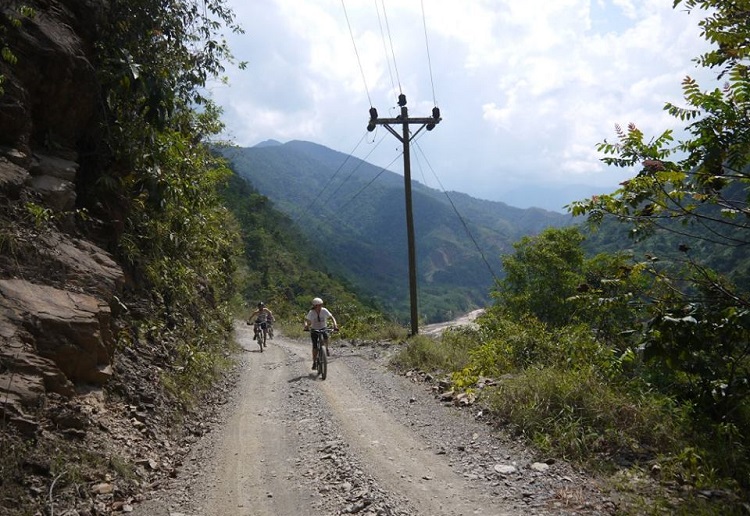 Another early start, breakfast is served at 6am providing ample nourishment for the big day of riding ahead. At 6.30am, the driver will take you to your starting point for the day; a 2 hour drive to the high Andes.
On today's ride you will descend 4,000m over 65 Kms on a 4×4 "double track" dirt road passing hard rock gold mines and agricultural villages. It is predominantly downhill, with only a few climbs and flat sections. Much of the road is pretty smooth, but there are some rough rocky sections, to liven things up. The jeep follows behind the group for support, so if anything is too tough you can hitch a ride in the 4×4.
La Paz Life Quick Tip:
As voted the best way to travel around Bolivia and Peru, we highly recommend choosing Bolivia Hop as your means of transport. Their safe, flexible and trustworthy service have proven to be the best way of getting the most out of your time in South America!
Next you will stop for lunch at a petite picturesque village where local women have been busy preparing a quinoa and vegetable soup. Your guides will also make some avocado salad sandwiches for the group to share. Afterwards you can sit back and savor some chocolate and local brewed coffee.
From here on, the road is in better condition and is far quicker to ride. It is also easier on the lungs as the lower you go, the warmer it is and the easier it is to breath.
Tonight you will stay in humble conditions in the small gold and coca pueblo of Consata . Lodgings at Consata are simple (e.g. straw beds, cold showers) so there will be no hot showers or Wi-Fi. Your guides will prepare dinner, fettuccine pasta with a delicious vegetarian pasta sauce. It certainly hits the spot after a long day of riding, especially when accompanied by a glass or two of red wine!
Day 3: Wednesday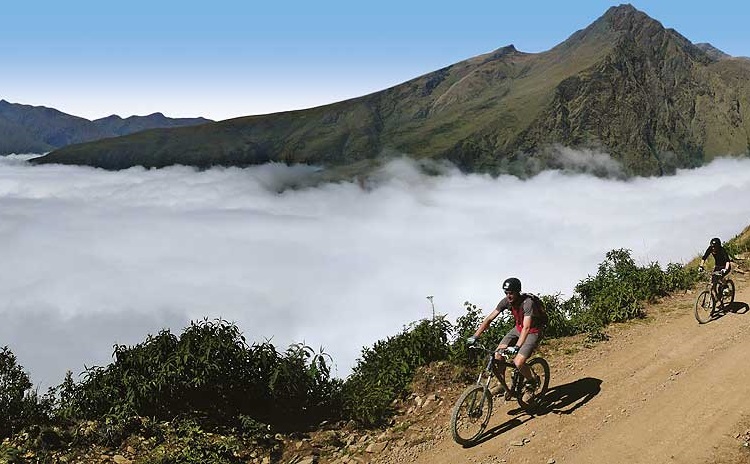 Your guides will wake early to prepare your breakfast for the day; French toast, home-made chocolate sauce and a variety of fruits, accompanied by local coffee and tea. At around 8am you will board the 4x4s for a short one hour drive along the river's edge climbing slightly above the river. The surrounding vegetation becomes more exotic as you head into regions with thick overhanging canopies.
A contrast to yesterday's sites, today you will spend the day riding through the belly of the jungle. While there are no majestic views to speak of, you will instead be treated to long stretches of green broken by the occasional impressive waterfall creek and river. It's a hot, humid and challenging day as the trail features some climbs as well as many fun down-hills, however there is no rush; take your time and enjoy the adventure of it.
Along the way your group will stop for locally made soup at one of the jungle gold mining villages. From here the road is a little dirtier as the mines tend to mess up the roads. Not far down the road you will stop alongside a clear jungle river; it is a great place for a swim and to wash the bikes. This is also a great time fill up on a few more snacks of chocolate and fruit.
From here you will jump in the vehicle for one final climb before mounting your bike and riding to your accommodation in Mapiri; a gold mining centre and trading hub.
After a well deserved shower your group will head into town for dinner where you'll be greeted with rice, river fish, and vegetables. The rest of the night can be spent drinking beer and singing Karaoke, after which you will return to your hostel which features an open roof-top, perfect for start gazing.
Day 4: Thursday
Following another hearty breakfast, you will take a short walk down to the Rio Mapiri to find your transport for the day; a longboat packed with all the group's gear.
From here you have three days of river adventures. Approximately 4 hours per day are spent on the boat, with the rest of the time spent hiking or camping in the jungle. All camping gear, other than flash lights, are supplied and there is also a cook on board to make you hearty meals.
Today your boat ride winds down lush canyons to the gold boom
town of Guanay where you can enjoy lunch at a local restaurant overlooking the
 river. Here you will have some time to explore while your tour guide loads up
 supplies for the river trip.
From here your tour group continues downriver for 1.5 hours to
 the first river camp, where a crystal clear creek meets the main
 river. During the afternoon you can hike to a scenic lookout before returning in time for dinner where you can relive the day's adventures around a roaring camp fire.
La Paz Life Quick Tip:
As voted the best way to travel around Bolivia and Peru, we highly recommend choosing Bolivia Hop as your means of transport. Their safe, flexible and trustworthy service have proven to be the best way of getting the most out of your time in South America!
Day 5: Friday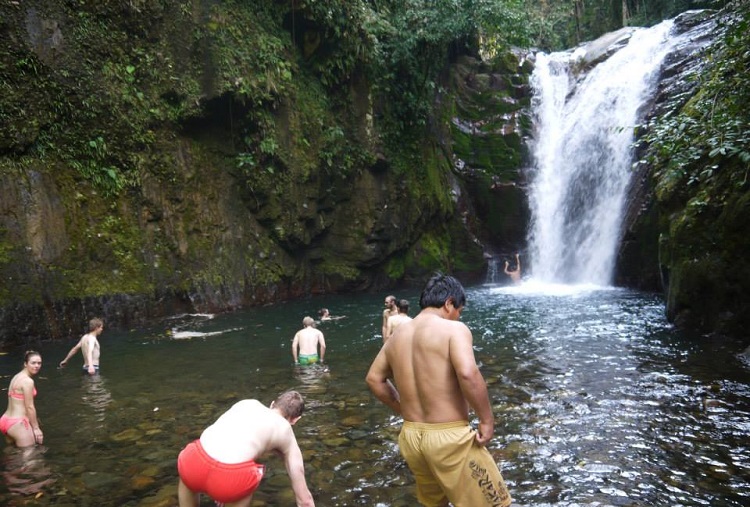 Today begins with loading your gear onto the boat before heading on a 1 hour hike up the side canyon of the creek to a nice waterfall and pool.
After a refreshing swim your group will return to the camp and head downstream. Lunch is prepared and served on the boat during which time you will pass several active gold mines before
 entering the protected area of Madidi national park.
While setting up camp, your cook will prepare another delicious dinner. The rest of the night will involve a hike through the jungle followed by toasted marshmellows and a game night by the fire.
Day 6: Saturday
After an early 7am breakfast you will be taken on an informative 3.5 hour hike through the lush rainforest of Madidi National Park. Then it´s about 3 
hours down the river (lunch is served on the boat) to Rurrenabaque, the final destination on your tour, arriving in town around 2-3pm.
Once you've freshened up at your accommodation in Rurrenbaque (see below for prices), you can make your way to Moskito Bar where you can enjoy a couple of drinks and a bite to eat with your tour group.
Suitable For
The River & Ride Tour is suited to people who love adventure and the great outdoors. People of all fitness levels and riding ability are encouraged to join the 6 day tour, with any challangeing parts being achieved at a pace suitable to you
Tour Price
Prices are listed in US dollars and are per person based on group size
Option 1: 6 Days / 5 Nights
Option 2: 5 Days / 4 Nights
| | 1 Person | 2 People | 3 People | 4 People | 5 People | 6 People | 7+ People |
| --- | --- | --- | --- | --- | --- | --- | --- |
| Option 1 | $2990 | $1650 | $1100 | $795 | $670 | $590 | $555 |
| Option 2 | $2918 | $1578 | $1028 | $723 | $598 | $518 | $483 |
Included In The Price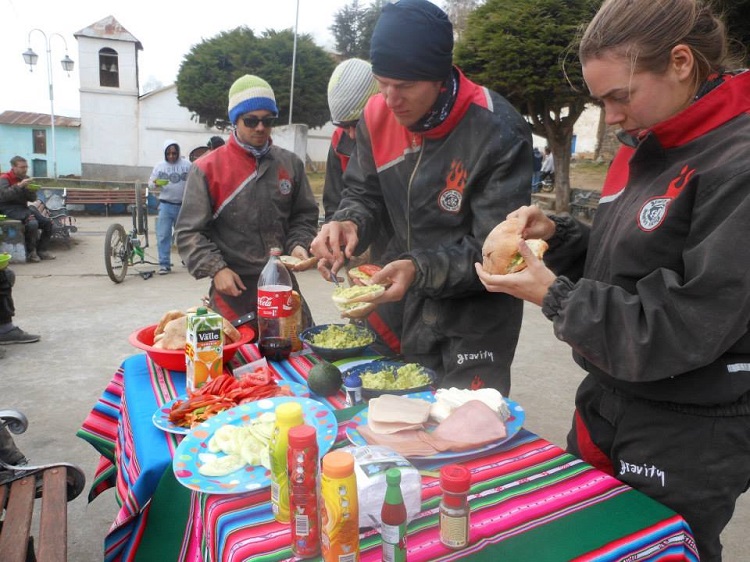 Option 1: 3 days of bike riding; 3 days on jungle river boat; 2 nights camping in the jungle including 3 day time jungle tours plus 1 night time Jungle tour. 5 nights accommodation
Option 2: 2 days of bike riding; 3 days on jungle river boat; 2 nights camping in the jungle including 4 day time jungle tours. 4 nights accommodation
Transport from La Paz to Sorata
Professional English/Spanish speaking guides
All meals, bottled water, snacks
Rain jackets, protective biking clothing including jackets and trousers, gloves, full-face helmet, or half-shell helmet and goggles
Mountain bikes & 4×4 support vehicle
Tents, sleeping bags, sleeping mats
Luggage storage in La Paz
Digital photos/videos from tour
50 Bs towards your meal at Moskito Bar plus a free cocktail on arrival
Not included: Park and entrance fees, return flights, alcoholic beverages, 1st day's breakfast
Accommodation in Rurrebabaque
At the end of your tour, for an additional $33 US, Gravity can provide you accommodation at the Oriental Hotel in Rurrenabaque where you can freshen up before making your way to join your tour group at Moskito Bar for a final goodbye.
If you choose to stay at the Oriental Hotel you will be treated to a late check out as well as great Wi-Fi and a complementary breakfast.
Why Choose A Ride & River Tour?
They offer weekly departures every Monday from March to mid December
Tours are professional, safe and well organised
All equipment is high quality and protective clothing is top-of-the-line
Guides are trained to fix and adjust bikes for clients during the tour
Food is tasty and satisfying
It's a fantastic chance to get off the gringo trail and see the real Bolivia