Presidential Palace (Palacio Quemado)
Next to the cathedral is the Government Palace (Palacio del Congreso Nacional), official residence of the President of Bolivia.
History of the Presidential Palace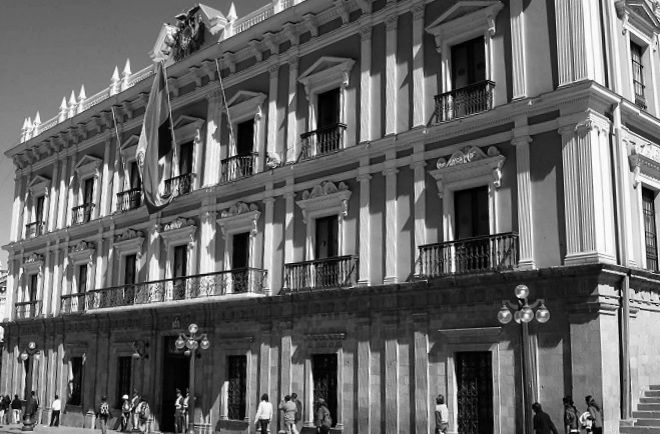 The Presidential Palace, built in the middle of the 19th century, has witnessed some of the most important historical events in Bolivian history. However, the government building hasn't always stood tall, suffering from violent political outbursts on numerous occasions.
During an uprising in 1875, the Presidential Palace was badly damaged by fire when rebels opposed to President Tomás Frías Ametller failed to storm the building and instead set the palace alight. Since then, the Presidential Palace has gone by the nickname Palacio Quemado (Burned Palace), a reference to its fiery past.
Bolivia's political history has been quite brutal with presidents assassinated at an alarming rate. Plaza Murillo, the park in which the Presidential Palace stands, was one of the most notable scenes of Bolivian battles, with many Independence leaders killed on or near the plaza.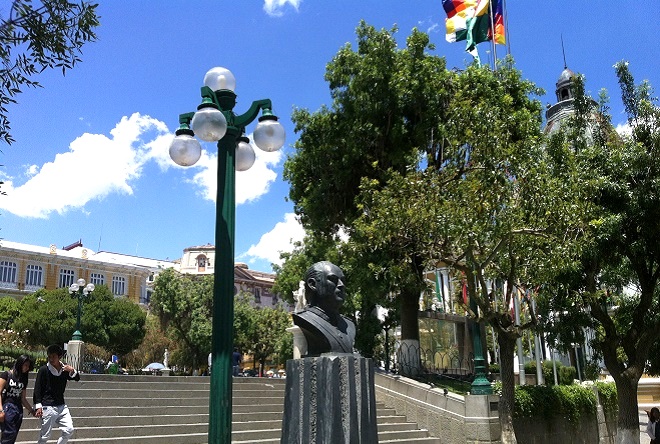 More than 200 violent changes of government have taken place at the palace since the year 1826. One of the most famous political deaths occurred in 1810, when patriot and key player in Bolivia's Independence , Pedro Domingo Murillo, was captured and hung by the royal army.
Other presidential downfalls at the palace include the suicide of President Busch in 1939, the killing of president Isidoro Belzu in 1865 and the slaying of Agustín Morales in 1872. All these presidents were in office at the time.
A recent example of Bolivia's political violence was in 1946 when president Villarroel was set upon by group of enraged rebels who threw him off the palace's balcony and proceeded to hang him from a lamp post. Opposite the palace, a statue dedicated to the ill-fated President Villarroe now stands.
Structure of the Presidential Palace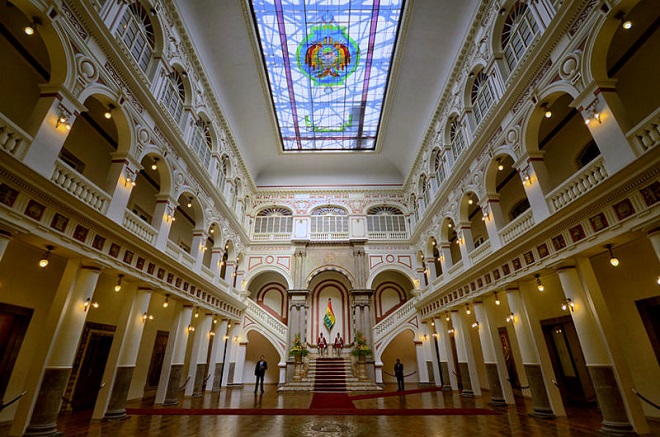 Built in the neo-classical style like many of the surrounding buildings, the exterior of the Presidential Palace is quite stunning, with brightly painted walls, contrasting white window frames, long balconies and stately columns. Atop the building is the Bolivian coat of arms, with an Andean condor flying above it.
Inside the palace is a beautiful pillared patio with an impressive marble staircase that leads to the presidents' offices, the Mirrors Hall, the Presidents Hall, the Red Hall and the presidential bedroom.
Outside the Presidential Palace stand guards dressed in their 19th century uniforms, commemorating the soldiers who fought against Chile during the Pacific War. Once a day, visitors can view a "changing of the guards" out the front of the palaces doors. This event isn't as formal as say the changing of the guards at Buckingham Palace, but is interesting to watch nonetheless.
Visiting the Presidential Palace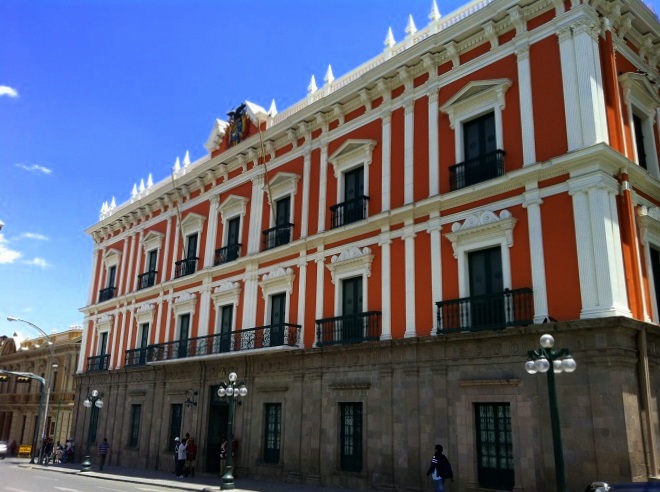 Understandably, tourists aren't permitted inside the Presidential Palace. It is, however, well worth a trip to Plaza Murillo to appreciate the Presidential Palace's imposing façade; a symbol of Bolivian power, rather than just another city building.
Place: Presidential Palace
Address: Plaza Murillo, La Paz, Bolivia