Mercado Lanza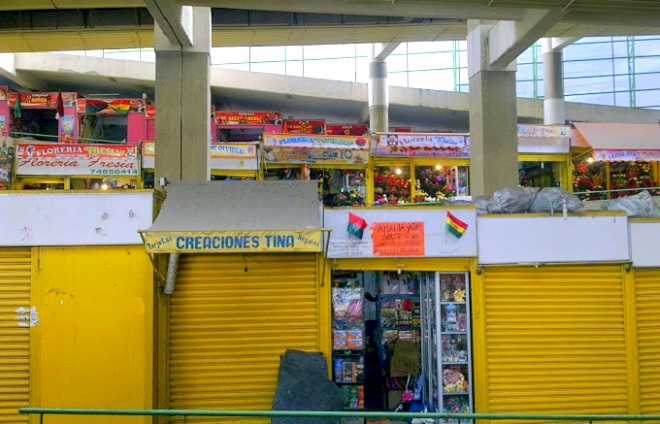 Conveniently located in the center of La Paz is one of the city's largest and most uniquely-designed food markets.
Completed in 2010, Mercado Lanza is not the most beautiful of structures, deriving its appeal through function and capacity rather than aesthetics. To many, the market looks more like a converted parking lot then a local market, gaining both admirers and haters among La Paz's public.

With capacity for over 1000 traders, Mercado Lanza is spread neatly over four stories, arranging its stalls by theme. On the lower floor you will find books, clothes, jewelry and flowers, while the upper floor is dedicated to eating. Throughout the rest of the market you can purchase fresh produce, meat, fish, dairy products, breads and canned foods as well use the Mercado's health center and nursery.
For those looking for a quick and cheap lunch, Mercado Lanza boasts a large number of delicious hole-in-the-wall restaurants serving up traditional Bolivian fare, coffee, ice-creams, sandwiches, salads and tasty fruit juices for less than a dollar.
Food sovereignty is important in Bolivia with smaller local eateries thriving over big franchises due to their ability to serve satisfying, healthy, home-cooked food at affordable prices. A shining example of this is the lack of a McDonalds in La Paz, who had to close their doors due to an inability to attract a customer base. It's hard to think of other places in the world where a nation's people prefer to buy their burgers from a local vendor than the 'golden arches!
La Paz Life Quick Tip:
As voted the best way to travel around Bolivia and Peru, we highly recommend choosing Bolivia Hop as your means of transport. Their safe, flexible and trustworthy service have proven to be the best way of getting the most out of your time in South America!
If you're looking for a quick bite to eat or to quench your thirst while sitting among La Paz's busy locals, make sure you try out Mercado Lanza.