La Paz Metropolitan Cathedral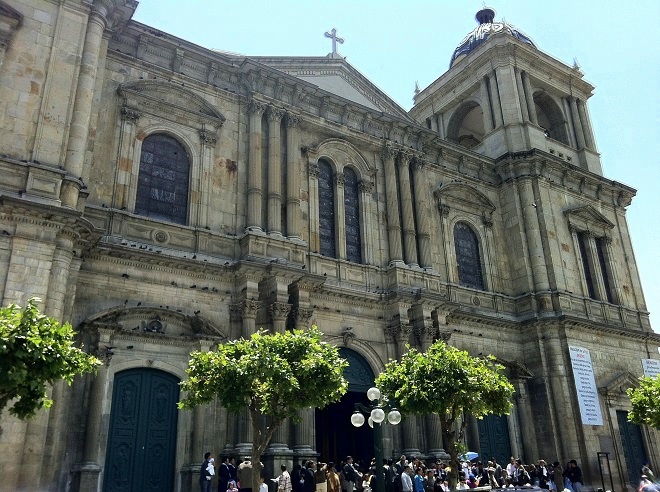 On the corner of bustling Plaza Murillo stands one of La Paz's most impressive religious structures, the Metropolitan Cathedral of Our Lady of Peace (Catedral Basilica Menor de Nuestra Senora de la Paz).
History of the Cathedral
In 1622, construction of the Cathedral first began, taking  70 years to complete. Initially, the building was made from stone, brick and lime, however in 1831 cracks started to appear threatening to collapse the Cathedral. In 1831 the decision was made to demolish the building completely.
In 1834 several taxes were imposed in the department of La Paz in order to raise the 30,000 pesos a year needed to reconstruct the Cathedral. Construction on the current Cathedral began on March 24, 1835, led by architect Manual Sanahuja.
The Cathedral was officially opened in 1925 as part of the centenary of the founding of the Republic of Bolivia. However, work remained to be done. Furnishing of the interior continued until 1932. The building itself was not completely finished until 1989, over 150 years since construction began, when the two lateral towers on the outside of the Cathedral were added to coincide with a visit by Pope John Paul II.

Structure of the Cathedral
The neoclassically designed Cathedral is an immense structure, boasting a high dome, thick columns, solid walls and soaring ceilings.
The interior of the cathedral is quite simple, featuring five carved bronzed doors as well as a chapel, guarding the remains of Mariscal Andrés de Santa Cruz y Calahumana.
The Cathedral's main altar, made from Italian marble, is relatively understated. The eye-catching feature is instead the stained glass windows behind it, which depict a gathering of Bolivian politicians being blessed from above by a group of divine worshipers.
The facade of the Cathedral features a large green metal door with 2 smaller doors on either side. The central door is surrounded by three Corinthian columns, reminiscent of Greco-Roman style. On top of the Cathedral sits a large metal dome, 12 meters in diameter and two smaller domes, the crowns of the towers.
What is most impressive about the Cathedral is the way it was built on top of a steep hill; its main entrance lies 12 meters higher than its base on Calle Potosi.
La Paz Life Quick Tip:
As voted the best way to travel around Bolivia and Peru, we highly recommend choosing Bolivia Hop as your means of transport. Their safe, flexible and trustworthy service have proven to be the best way of getting the most out of your time in South America!
Visiting the Cathedral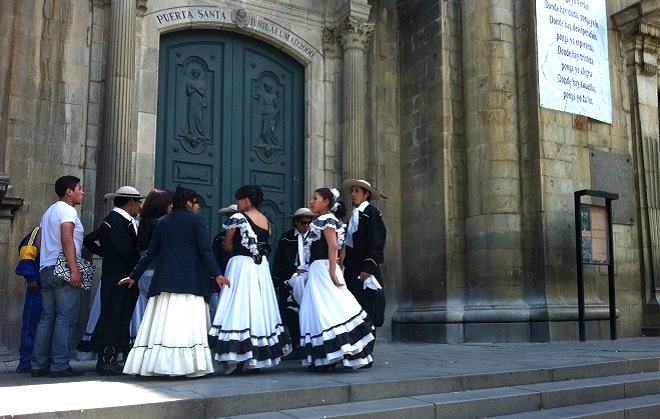 The Metropolitan Cathedral is an extraordinary and historical edifice well worth visiting when in La Paz's old town.
Opened every day of the week, tourists are welcome to look inside the Cathedral's interior, however it should be noted that photography is not permitted.