Cruz de los Andes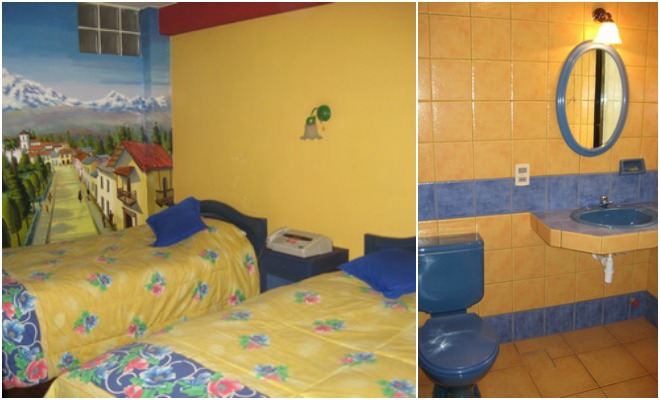 Situated on a narrow side-street, you will find a picturesque hostel providing guests with friendly service, clean rooms and a quiet atmosphere.
Cruz de los Andes provides spacious single, double and triple rooms each containing private bathroom with 24 hour hot water, cable TV, fresh towels, and a telephone. Rooms are cleaned daily and a buffet breakfast is included in the room price, offering various fresh fruits, bread, eggs, cereals, yogurt, tea and coffee. There is also free WiFi throughout the hostel, however the signal can be weak in some of the rooms, so guests may need to sit in the lobby to use the internet.
Adding to the warmth of the hostel are the beautifully decorated rooms and hallways featuring uniquely hand-painted murals of Bolivia's stunning landscapes. On the bottom floor of the hostel you will find a pool table and small common area, as well as two computers and a book exchange.
Cruz de los Andes is located within walking distance to many of La Paz's must-see landmarks and the hostel also works closely with Julius Tours Travel Agency, meaning travelers can conveniently book tours from within the hostel.
La Paz Life Quick Tip:
As voted the best way to travel around Bolivia and Peru, we highly recommend choosing Bolivia Hop as your means of transport. Their safe, flexible and trustworthy service have proven to be the best way of getting the most out of your time in South America!
The mulit-lingual staff are very friendly, offering advice on what to see and do around the city. They can also provide you with laundry service, heaters for your room, free city maps, airport transfers, bottled water and currency exchange.
If you're looking for a peaceful oasis amid the hustle and bustle of La Paz, Cruz de Los Andes is a great choice.
Price: Single: 227 Bs ($33 US) per person; Double: 145 Bs ($21 US) per person