Arthy's Guesthouse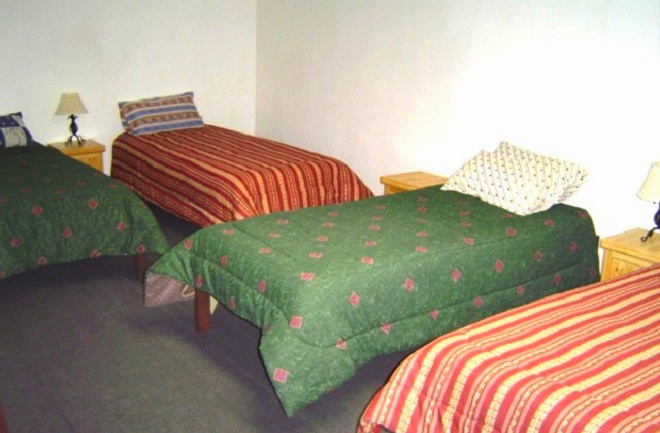 Positioned on one of the busiest streets in La Paz, Arthy's Guesthouse nonetheless is a quiet oasis, sheltered from the car honking and dog barking outside.
Spread over two and half flights of stairs are 7 rooms (singles, twins and quadruples), each containing comfortable beds with thick fleece blankets and the option of a hot water-bottle at night. Bathrooms are clean and shared, with 7 showers and 2 toilets available for use. There is also a spacious lounge and sunny inner patio for guests to enjoy as well as free WiFi, 2 computers, a book exchange, and a collection of board games and DVD's.
Breakfast is not included in the room price, but guests can pay 10 Bs ($1.50 US) for breakfast the night before or make their own using the communal kitchen.
To help ensure everyone gets a good nights sleep, Arthy's close their doors at midnight and open them again at 6am. They do make an exception for people arriving outside of these hours as long as they have prior warning.
The guesthouse is conveniently located in the center of La Paz, about a 10 minutes walk from the bus station and San Francisco Plaza. Note that the front door of the Arthy's is not visible when you first pull up, so you need to be on the look out for a yellow steel door.
La Paz Life Quick Tip:
As voted the best way to travel around Bolivia and Peru, we highly recommend choosing Bolivia Hop as your means of transport. Their safe, flexible and trustworthy service have proven to be the best way of getting the most out of your time in South America!
Service at Arthy's is top notch, and the friendly, English-speaking owners will do all they can do to help you, providing great tips about where to go and what to do in La Paz.
Price: 90 Bs ($13 US) per person