Urban Rush: Abseiling And Rap Jumping In La Paz
Ever wanted to scale a building Spider-Man style?
Established in 2012 by the founder of Gravity Assisted Mountain Biking, Urban Rush gives thrill-seekers the chance to jump down a 17-story building, experiencing an adrenaline rush with a view to die for.

Preparing For Your Urban Rush
Upon arriving at the 17-story penthouse of Hotel Presidente, highly trained guides will fit you into their top-of-the-line equipment which is not only changed every 3 months but rated to take over 15 people on it. For those wanting the 'superhero' experience, there are a range of costumes to choose from including Spider-Man, Batman, Captain America, Santa Claus and Cat Woman.
Once suited up, you will be given a thorough training session, as well as the opportunity to test your jumping skills on a 2m practice wall inside the building.
When ready, you will be guided to the 50m high jumping-off point where sweeping views over La Paz and the surrounding mountain ranges await. Here you'll be given the choice of using the traditional rappel/abseil method, or a face-first method know as rap jumping – the ultimate rush!
La Paz Life Quick Tip:
As voted the best way to travel around Bolivia and Peru, we highly recommend choosing Bolivia Hop as your means of transport. Their safe, flexible and trustworthy service have proven to be the best way of getting the most out of your time in South America!
Abseiling With Urban Rush
This type of jump has participants in a seated position with the attached rope in front, enabling them to walk and jump backwards down the building. This is more fun than scary and allows people to do bigger jumps while taking in the spectacular views of La Paz.
Rap Jumping With Urban Rush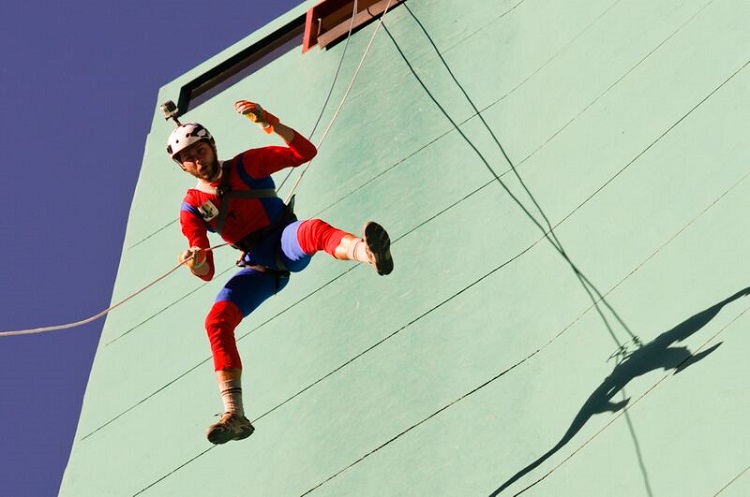 The second style, rap jumping (a technique developed by the Australian Army), sees people of all ability levels can leap face first down the hotels steep wall. This is more adrenaline junkie than cautious adventurer and is a full on experience.
The really, really fun part happens when participants reach the 6th floor, at which time the guides will stop them for the free-fall part. All participants have to to do now is let go of the rope, jump off the wall and the guides will stop them just before they hit the bottom platform.
Urban Rush Safety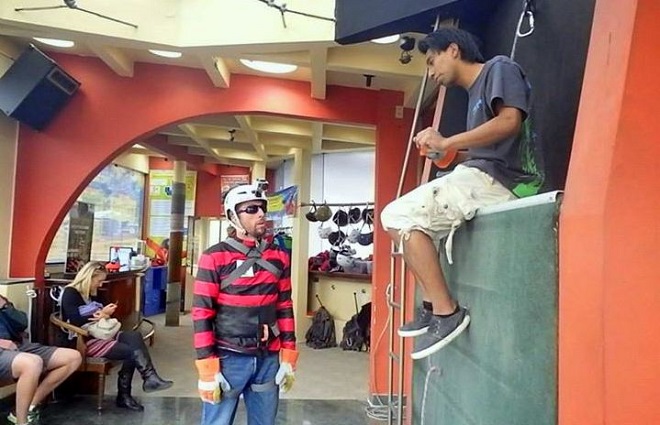 While participants are required to sign a "death waver" before their jump, dare-devils can rest assured that Urban Rush ensures 100% safety. Designed and constructed by experts from New Zealand, the US and Bolivia, this activity exceeds all international safety standards, using 2 ropes and 3 brakes at all times.
Guides are highly trained, fluent in English, enthusiastic and make participants feel safe and secure at all times. For those worried about having second thoughts half-way down, guides can stop you at any time if needed.
Urban Rush Prices
Prices are as follows:
Two drop special: 200 Bs /$29 US
First drop: 150 Bs / $22 US
Subsequent drops: 70 Bs / $10 US
There is also a 50 Bs ($7 US) discount for those participating in the Red Cap Walking Tour; another great activity to do while in La Paz.